Everything You Need to Know About Moving to Wilmington, NC
Posted by Paula Vargas-Beasley on Sunday, April 30, 2023 at 1:20:52 PM
By Paula Vargas-Beasley / April 30, 2023
1 Comment
So you're thinking of moving to Wilmington, North Carolina? I'm so glad you're considering this beautiful and booming location as your next potential home! Did you know that Wilmington, NC was ranked the top 10 city to move to in the United States for the last three years (2020-2022)? There's a lot to love about this unique beach town and this article will explore everything you could possibly need to know about moving here!
[Search current homes for sale in Wilmington, NC]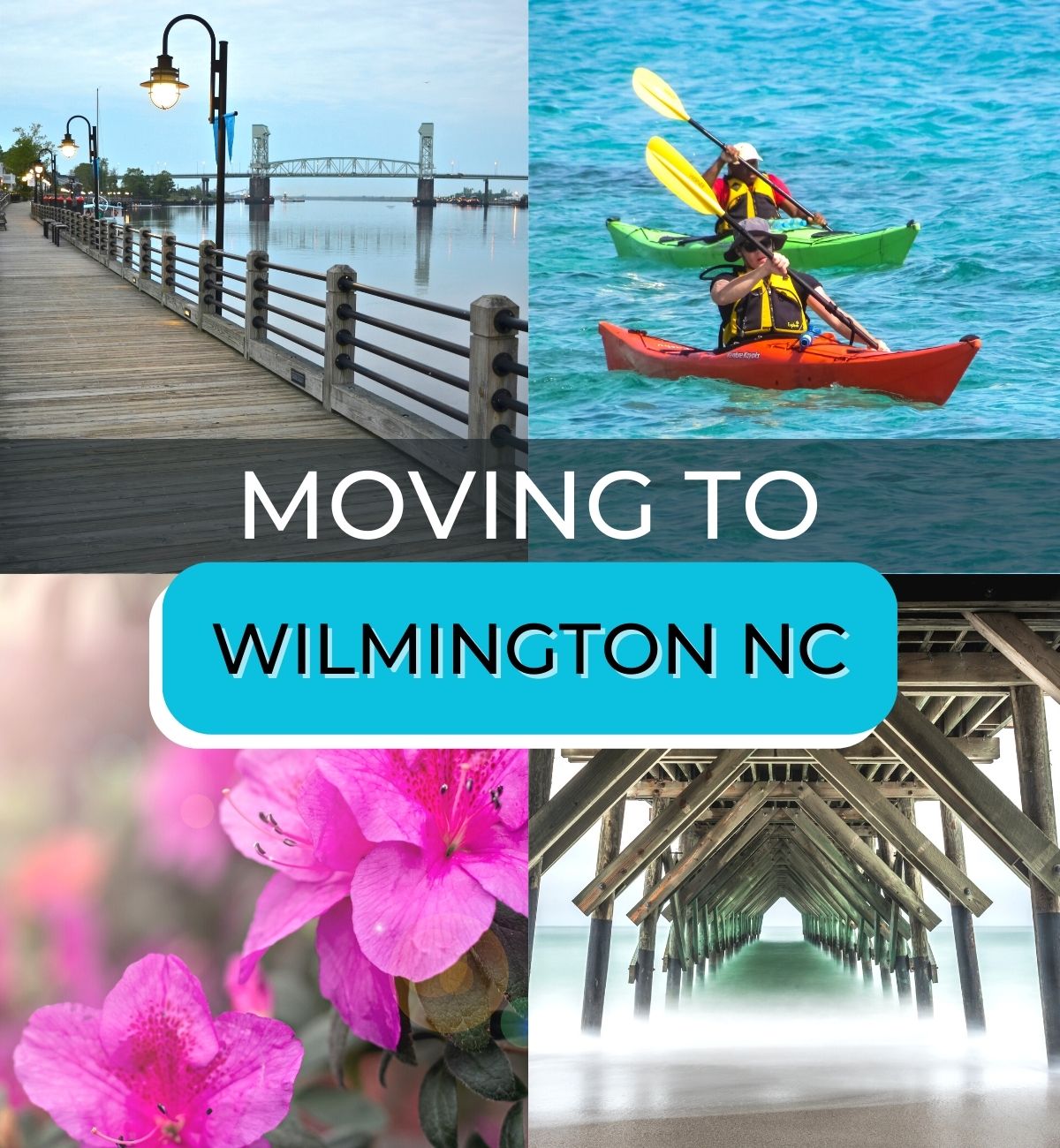 The Port City is well known for its beautiful beaches, outdoor recreational activities, a booming entrepreneurial scene, locally crafted beer, and so much more! This town contains so much charm, it's the stuff of movies (which, by the way, major productions love to leverage in real movies and TV shows all the time!). Surrounding Wilmington are tons of other towns that you'll most certainly find yourself visiting on a regular basis such as Carolina Beach, Leland, Wrightsville Beach, Burgaw, and others.
Let's dive in!
Living In Wilmington, NC
Wilmington, North Carolina, is a charming coastal city nestled between the Cape Fear River and the Atlantic Ocean, offering an abundance of natural beauty and a strong sense of community. Known for its warm, welcoming atmosphere and rich history, Wilmington's residents pride themselves on fostering a tight-knit community where everyone feels like they belong. The people here are diverse, coming from different backgrounds and cultures, yet they all share a common love for their city and an eagerness to contribute to its growth and development.
One of the most notable aspects of life in Wilmington is the strong emphasis on community engagement and participation. This city is known for its wide array of community events, which cater to people of all ages and interests. From lively outdoor festivals to intimate cultural gatherings, Wilmington's calendar is filled with events that bring people together, strengthen bonds, and create lifelong memories.
Here is a list of some of the popular community events that take place in Wilmington, NC!
The Azalea Festival: This event takes place every April in downtown Wilmington. A showcase for our community's rich array of artwork, gardens, history, and culture through recreational, educational and family-oriented events.
Coffee Fest: This is another great event that brings coffee lovers together for a chance to try all the coffee Wilmington has to offer. Meet the best coffee roasters, unique coffee shops, tea suppliers, and all things coffee related in the industry while supporting local non-profits and helping us make this event a minimal waste festival.
Wilmington Wine & Food Festival: The Wilmington Wine & Food Festival brings together top area chefs with the best of the wine, beer, and spirits industry to celebrate and advance public appreciation for great food and drink. The festival provides a diverse range of epicurean experiences showcasing the area's unique and rich culture and history.
Outdoor Live Concerts: Check out big-name artists who visit Wilmington at either the Greenfield Lake Amphitheater or the recently opened Live Oak Pavilion in downtown Wilmington.
Networking Events: There are so many networking events in Wilmington that I can't even list them all in this single article, but just a quick review on Facebook will help you find and join groups for all the professional networking events that happen all year.
Wilmington Greek Festival: Join Saint Nicholas Greek Orthodox Church for a very popular Greek Festival on South College Road. This festival is a great opportunity to enjoy delicious food, traditional music and dancing, plus lively marketplace and cooking demonstrations.
Latino Festival: Taking place at varying public locations each year, the Latino Festival is full of vibrant music and delicious authentic food from the Hispanic community.
The Holiday Flotilla: Watch a parade of decorated boats and yachts sail by in Wrightsville Beach!
Enchanted Airlie: Since 2005, guests have visited Airlie Gardens to take in the sparkling sights and festive sounds of the holiday season. Enjoy a self-guided walk through holiday lights & music.
There are so many other community events in Wilmington that I can't mention them all in this article, but these are surely enough to help you grasp how much there truly is to do in this charming town!
Cost of Living in Wilmington, NC
The cost of living in Wilmington, North Carolina, is just 1% higher than the state average, but 4% lower than the national average, according to RentCafe. While it's generally considered to be slightly above the national average, Wilmington is still relatively affordable when compared to other coastal cities in the United States. You can find some fantastic data about the population and cost of living here by visiting the Census Reporter website.
It's essential to keep in mind that the cost of living is subjective and can vary greatly depending on individual preferences, lifestyles, and financial situations. While Wilmington's cost of living is somewhat higher than the national average, many residents find the city's charm, natural beauty, and strong sense of community to be well worth the added expense. By carefully examining various data sources and taking personal circumstances into account, potential residents can determine whether Wilmington, North Carolina, is the right fit for them.
You can explore current houses for sale to learn more!
Real Estate in Wilmington
Wilmington, North Carolina, has been experiencing a steady growth in its real estate market, making it an attractive option for homebuyers and investors alike. The city's coastal charm, coupled with its strong sense of community, has drawn many people looking to settle down in a picturesque and friendly environment. As a result, the real estate market in Wilmington has seen an uptick in demand, leading to an increase in property values and a more competitive market for potential buyers.
Home values in Wilmington have most certainly climbed, especially since 2020. While homebuyers can still find homes between the ranges of $250,000 to $350,000, the average home value is $376,635–up 10.3% over the past year and goes to pending in around 9 days, according to Zillow. Buyers who find a deal below $300k may need to expect adding a little extra love to the home, such as fresh paint and minor repairs.
Buyers can also look to buy on the outskirts of Wilmington, as there are many beautiful neighboring towns that are only 15 to 20 minutes from Wilmington, but priced much more affordably for buyers in that range.
No matter your budget, you can contact me to start looking for your home in the Greater Wilmington area today!
Renting in Wilmington
Renting in Wilmington, NC, can be an attractive option for those who are new to the area or unsure about committing to homeownership just yet. The city offers a variety of rental options, ranging from apartments in modern complexes to charming single-family homes in established neighborhoods. However, it's essential to consider the long-term benefits of buying your first home, especially as Wilmington's real estate market continues to grow and flourish.
The average size for a Wilmington, NC apartment is 972 square feet, but this number varies greatly depending on unit type, with cheap and luxury alternatives for houses and apartments alike. Studio apartments are the smallest and most affordable, 1-bedroom apartments are closer to the average, while 2-bedroom apartments and 3-bedroom apartments offer a more generous square footage.
The average rent in Wilmington is $1,630, but can be higher depending on proximity to certain areas, whether you're renting from a private landlord, and even whether or not you're renting a house or an apartment.
Again, renting can be a great option for those just moving to a new place, but you can't help but consider how much you will inevitably put into rent versus putting that same amount of funds into an asset that is going up in value each year. Not only can you resell your property for a profit within a few years time, but you could also plan to rent it in the future when you transition to your next home in the area. If you're interested in exploring your options with buying a home in Wilmington, contact me today!
The Weather in Wilmington
We're known for our pleasant weather, featuring a humid subtropical climate that attracts visitors and new residents alike. The city enjoys a relatively mild climate throughout the year, with warm summers, mild winters, and plenty of sunshine. This appealing weather contributes to the city's allure, making it an ideal destination for those who love spending time outdoors and enjoying a variety of activities.
Summers in Wilmington are characterized by warm temperatures, with average highs ranging from the mid-80s to low 90. The summer months also bring higher humidity levels, which can make the heat feel more intense. However, the city's proximity to the Atlantic Ocean offers refreshing sea breezes that help to alleviate some of the humidity. Additionally, summer is the perfect time to enjoy Wilmington's beautiful beaches, where residents and visitors alike can take advantage of the sunny weather and warm ocean waters.
Winters in Wilmington are relatively mild, with average high temperatures ranging from the mid-50s to low 60s Fahrenheit. Snow is rare in the area, and when it does occur, it typically doesn't accumulate to any significant depth. Instead, residents can expect occasional rainfall during the cooler months. The mild winter weather makes it possible to enjoy outdoor activities year-round, which is a significant draw for many people who choose to call Wilmington home. I've seen holidays as warm as 70 degrees some years!
One important aspect to consider about the weather in Wilmington is the potential for hurricanes and tropical storms. The city's coastal location makes it susceptible to these weather events during the Atlantic hurricane season, which runs from June through November. While not every year sees direct impacts from hurricanes, it's essential for residents to be prepared and stay informed about any potential storms during the season.
Access to Beautiful Beaches
Wilmington, North Carolina, and its surrounding areas are blessed with stunning beaches that attract both residents and visitors alike. These pristine coastal stretches are known for their soft white sands, crystal-clear waters, and diverse range of activities, making them an ideal destination for beach lovers. From family-friendly shores to more secluded spots, there is a beach for every preference in the Wilmington area.
Within a 30-mile radius of Wilmington, you'll find several beautiful beaches to explore. Some of the most popular ones include:
Wrightsville Beach - Located just a short drive from downtown Wilmington, this vibrant beach is a favorite among locals and tourists alike. Known for its excellent surf conditions and lively atmosphere, Wrightsville Beach offers a perfect mix of relaxation and entertainment.
Carolina Beach - This family-friendly beach features a charming boardwalk, amusement rides, and numerous restaurants, making it a popular destination for a fun-filled day by the ocean.
Kure Beach - Situated further south from Carolina Beach, Kure Beach boasts a more laid-back atmosphere and is ideal for those seeking a tranquil beach experience. Don't miss a visit to the nearby North Carolina Aquarium at Fort Fisher.
Fort Fisher State Recreation Area - This beach offers a more secluded and natural setting, with miles of pristine shoreline and a unique maritime forest. It's an excellent spot for beachcombing, birdwatching, and enjoying the untouched beauty of the coast.
Whether you're a sunbather, surfer, or wildlife enthusiast, the beaches in and around Wilmington, North Carolina, offer something for everyone. With their natural beauty and diverse offerings, it's no wonder these coastal gems are considered some of the best in the region.
College Town
Wilmington exudes a vibrant college town atmosphere, thanks to the presence of several higher education institutions in the area. This youthful energy infuses the city with a unique blend of culture, arts, and intellectual pursuits, creating an environment that is both stimulating and engaging. The college town vibe is evident in the bustling downtown area, where students and residents alike can enjoy a wide array of cafes, bars, art galleries, and performance venues.
Some of the surrounding colleges that contribute to Wilmington's college town atmosphere include:
University of North Carolina Wilmington (UNCW) - UNCW is a public university with a diverse range of undergraduate and graduate programs. The university is known for its strong marine science, film studies, and creative writing programs, among others. UNCW's beautiful campus, coupled with its commitment to research and community engagement, makes it a vital part of Wilmington's educational landscape.
Cape Fear Community College (CFCC) - CFCC is a comprehensive two-year college offering a variety of associate degree programs, diplomas, and certificates. Its downtown Wilmington campus serves as an educational hub for the local community, providing access to quality higher education and career training opportunities.
Brunswick Community College (BCC) - Located about 30 miles south of Wilmington in Bolivia, NC, BCC offers associate degree programs, continuing education courses, and vocational training. Although not directly within Wilmington, its proximity to the city contributes to the overall college town atmosphere.
Nicknames for Wilmington
Some nicknames for Wilmington include the following:
The Port City: Wilmington is nicknamed North Carolina's "Port City" due to the expansive Port of Wilmington downtown.
Hollywood East or Wilmywood: These nicknames stuck because of the EUE/Screen Gems Studios and the many film productions that operate out of Wilmington
ILM: This abbreviation pronounced as I-L-M is a common nickname for the town among locals, likely stemming from the airport's abbreviation of the town.
Our Flower and Wildlife
One of the most treasured pieces of nature in our local area is the azalea. Long considered to be one of the symbols of Southern culture in the United States, this gorgeous blossom has become synonymous with beauty, grace, and the Spring season. You can learn more about the Azalea by visiting this wonderful article by the Brunswick Community website.
Coastal Wildlife
Wilmington, North Carolina, is home to a diverse array of wildlife, thanks to its unique coastal location and the variety of habitats found in the area. In and around the city, you'll find a rich assortment of animals and birds, particularly near the water, where marshlands, estuaries, and beaches provide ideal environments for numerous species. Coastal birds, such as herons, egrets, pelicans, and ospreys, can be spotted soaring through the skies or wading in the shallow waters in search of fish. The region is also an essential stopover for migratory birds, making it a haven for birdwatchers and nature enthusiasts alike. Dolphins can sometimes be seen if you're taking out the boat, kayak, or taking a sunset cruise, while sea turtles, including loggerheads and green turtles, visit the local beaches to nest during the warmer months. In the nearby marshes and swamps, you might even catch a glimpse of alligators and various species of snakes, as well as an abundance of fish and crustaceans. The diverse wildlife in Wilmington, NC, adds to the city's natural charm and offers endless opportunities for exploration and discovery.
Things to Do in Wilmington
Wilmington boasts a diverse array of activities and attractions, catering to a wide range of interests. From arts and culture to outdoor recreation, there is always something to do in this vibrant coastal city.
The arts scene in Wilmington is thriving, with numerous galleries, theaters, and museums to explore. The Cameron Art Museum showcases a variety of regional, national, and international artwork, while the historic Thalian Hall hosts an array of live performances, including plays, concerts, and dance events. The city's flourishing film industry, often dubbed "Hollywood East," has also given rise to several film festivals, such as the Cucalorus Festival, which celebrates independent and international cinema.
Outdoor enthusiasts will find plenty of recreational opportunities in Wilmington and its surrounding areas. The city's beautiful beaches, like Wrightsville Beach and Carolina Beach, offer a perfect setting for sunbathing, swimming, and water sports such as surfing, paddleboarding, and kayaking. The nearby Cape Fear River provides ample opportunities for boating and fishing, while the scenic Riverwalk invites visitors to enjoy a leisurely stroll or bike ride along the water. For those who prefer hiking and exploring nature, Wilmington is home to several parks and nature preserves, including Airlie Gardens, Greenfield Lake Park, and the Halyburton Park, where you can discover a variety of native flora and fauna.
History buffs will appreciate Wilmington's rich past, which can be explored through a variety of historical sites and attractions. The USS North Carolina Battleship Memorial, for instance, offers a glimpse into the city's maritime history, while the Bellamy Mansion Museum and the Burgwin-Wright House provide insights into life during the 19th century. Guided walking tours of the city's historic downtown area are also a popular way to learn about Wilmington's history and architecture.
Finally, for those who enjoy shopping and dining, Wilmington has plenty to offer. The city is home to a wide range of boutique shops (Blue Moon Gift Shop and the Cotton Exchange), antique stores, and local markets, as well as an eclectic mix of restaurants, bars, and cafes that cater to diverse tastes.
The Entrepreneur Scene in Wilmington, NC
The entrepreneurial scene in Wilmington, North Carolina, is flourishing, thanks in large part to the strong support system in place for new and existing business owners. The city fosters a collaborative atmosphere that encourages innovation, networking, and resource-sharing among entrepreneurs from various industries.
One of the key organizations supporting Wilmington's entrepreneurial community is the University of North Carolina Wilmington (UNCW) Center for Innovation and Entrepreneurship (CIE). The CIE serves as a hub for startups and established businesses alike, offering a range of resources, including office space, mentorship, networking events, and educational programs. By connecting entrepreneurs with local business leaders and investors, the CIE helps to facilitate the growth and success of innovative ventures in the region.
Another organization providing valuable support to new business owners is the Small Business and Technology Development Center (SBTDC). This statewide organization offers counseling, training, and research services to help small- and medium-sized businesses succeed. Through personalized consulting and support, the SBTDC assists entrepreneurs in areas such as business planning, financial management, and marketing.
The Wilmington Chamber of Commerce also plays an active role in promoting the city's entrepreneurial scene. Through networking events, educational workshops, and advocacy initiatives, the Chamber helps to create a thriving business environment in which entrepreneurs can flourish. Additionally, the Chamber provides access to valuable resources, such as market research, demographic data, and economic development information, that can help new business owners make informed decisions.
SCORE Cape Fear Region is another valuable resource for entrepreneurs in Wilmington. As a nonprofit organization and a resource partner of the U.S. Small Business Administration (SBA), SCORE offers free business mentoring and low-cost workshops on a variety of topics, including business planning, marketing, and finance. With the help of experienced volunteers from diverse industries, SCORE provides personalized guidance to help entrepreneurs navigate the challenges of starting and growing a business.
Why Should You Move to Wilmington, North Carolina?
In conclusion, Wilmington, North Carolina, is a charming coastal city that offers a remarkable blend of natural beauty, rich history, and cultural diversity. With its thriving arts scene, attractive beaches, and ample outdoor recreational opportunities, Wilmington provides an exceptional quality of life for its residents. The city's strong sense of community, coupled with its supportive entrepreneurial ecosystem, creates an ideal environment for both personal and professional growth. Whether you're seeking a family-friendly atmosphere, a vibrant college town experience, or a place to launch your next business venture, Wilmington, NC, is a fantastic destination that promises a fulfilling and enjoyable living experience
Are you ready to make your move? Contact me today to get started!