Nominate Paula For 40 Under 40 Awards
Posted by Mel Beasley on Thursday, April 6, 2023 at 1:31:23 PM
By Mel Beasley / April 6, 2023
Comment
For four years, the StarNews and the Wilmington Chamber of Commerce have teamed up to honor some of the area's best and brightest young professionals. If you have ever met or worked with Paula Vargas, then you know her dedication and passion for real estate, and the people she's helped over the last 2+ years. Since starting, Paula has become an Icon Agent at ExP Realty for being a high producer. She's helped tons of families with all kinds of real estate transactions, and she's made it her mission to be an advocate for the Hispanic community in the greater Wilmington area who have next to no resources available in Spanish regarding real estate.
Please visit this link and fill out the form to nominate Paula for the 40 Under 40 Awards. Info you may need for the form can be found below as well.
Birthday: 3/27/92 - Email: [email protected] - Phone: 910-262-0257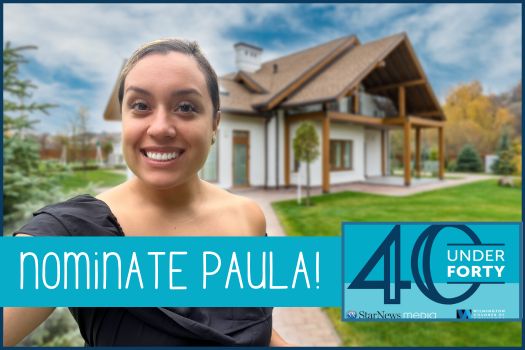 What professional experience makes Paula deserving of the 40 Under 40 Award?
Paula Vargas immigrated as a refugee to the United States with her family around 16 years ago from Colombia. She became a realtor approximately 2+ years ago, passing the the complicated real estate exam with English as her second language. Since then, she has sold over $10 million+ in real estate, has become an Icon Agent (top producer) at ExP Realty, and has made herself one of the #1 resources for the Hispanic community looking to buy or sell real estate. In North Carolina, there are no real estate contracts or documents in Spanish, and many Latinx individuals forego buying their first home due to there not being any resources available that they can understand in their own language. Paula is dedicated to providing education to the Hispanic community about real estate, the process, real estate investing, and so much more.
Top-Rated Real Estate Agent
Finally, Paula is a top-rated real estate agent on Zillow, Google, and Realtor.com. Check out what her clients have to say by reading her reviews!
How is Paula making a difference in the community?
As one of the very few fully bilingual English/Spanish realtors in the Greater Wilmington area, Paula is dedicated to educating the Hispanic community about real estate. She puts extra focus on helping her Spanish-speaking clients understand how to buy their first homes, how to invest in real estate as a means of building personal wealth, and so much more. She is currently a member of the Latin American Business Council.
NOMINATIONS DUE DATE
All nomations for the 2023 40 Under 40 Awards must be submitted by April 28.
Other Details:
These awards, produced by the Wilmington Chamber of Commerce, honor the exceptional young professionals in our region who are making a remarkable impact on our community and in their industry. This prestigious accolade is reserved for those under 40 years old as of September 21, 2023, who live or work in the dynamic counties of Brunswick, New Hanover, or Pender, and demonstrate an unwavering commitment to serving others.